Solar monitoring system or solar inverter monitoring is a device that gives you real time information on the performance, production and consumption of your solar power system. The data given can include energy produced, demand, usage and faults. With the help of such an instrument, you can get valuable tips to make your power systems more efficient and effective so that you don't have to worry about any break down. It will also help you save on the electricity bills.
The cost of such solar inverter monitoring software is quite high but if you go for it then you will find that it is worth every penny. Deye solar inverter monitoring platform helps you to easily monitor your solar energy production. It also helps to minimize wastage of electricity generated. If you want to monitor the performance of the panels and modules then you can do so with the help of solar monitoring solar energy production software.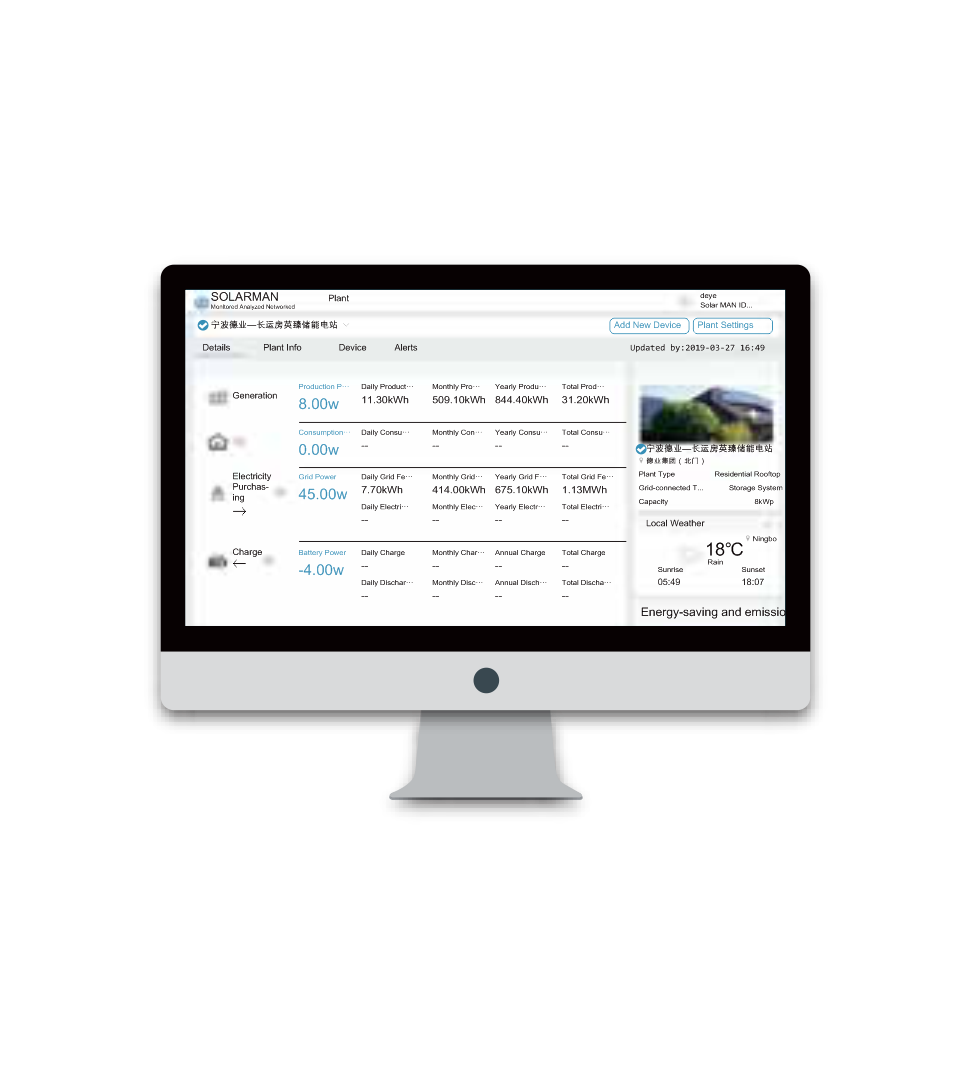 Software download:
https://pro.solarmanpv.com; (for Solarman distributor account);
https://home.solarmanpv.com; (for Solarman end user account).
These solar monitoring apps work on most of the mobile devices. It can help you check the temperature of the panel, battery levels and also gauge the output and capacity of each module. It is easy to use these solar monitoring apps. You just need to install them on your mobile device and they will work on its own.
However, you need to be very careful while selecting such solar monitoring device. It should be compatible with your mobile device. It should be easy to understand and operate. Most of the time, users are not able to operate these instruments properly.
When you are using the solar monitoring software then you will find that it has an interface for easy configuration. There are some solar energy panels manufacturers who provide solar energy panels with their own software as a support service. The solar inverter is one such product. With the help of this software you can easily set up your solar energy production system.
The next product, which is equally useful is the remote monitoring system. This system monitors the performance of all the solar inverters in your area. It provides full control of the instruments by using an internet connected computer or phones.
One other amazing solar monitoring device is the remote sensing instrument. This detects the presence of the panels in the shady areas and also monitors the energy production. This detects the shadow and cold areas and then provides warning of power cuts. It is designed in such a way that it allows the user to easily control the panels and energy production.
This is a very useful device, as it not only provides advanced alerting and control options, but also monitors the performance of the solar panels and reduces your electricity bills by over 50%. All the monitoring devices are reliable and comes with a long 7 real-time monitoring, and helps reduce the cost by 30%. With the help of remote monitoring device you can also reduce the chances of damage to the solar panels. The best part of all is that these products are very much affordable and provides maximum help to the user. Apart from this, it comes with a long 7 real-time monitoring and helps reduce the cost by 30%. The other amazing products are perfect for a home use and are a perfect solution for all those people who do not have the technical knowledge and are looking for an affordable and reliable option for controlling their energy production and saving money in the process.
This is a useful product as it not only provides 24 hour remote monitoring and helps reduce cost by 30%. All the other features of the device are excellent. It allows users to configure its settings to receive signals from multiple external sensors as well. Moreover, it enhances security and enhances the operation of your device as it generates an alarm in case it is tampered with. This device not only provides the facility of remote monitoring but also helps to optimize its functioning and ensures maximum uptime. The best part of this device is that it comes with a 5 year extended warranty and it meets all the standards set by the national grid.
This is a useful device that gives you the option to monitor your electronic appliances like fridges, television, washing machine etc in multiple ways. It helps to remotely control these appliances through a single command. The device not only controls the voltage pulse but also offers multiple analog outputs to various other devices. If you have a high capacity UPS then you can consider this as the best option for your requirement because it not only controls the pulse width but also distributes the input signal to various appliances with ease.
With all such features, the pulse width and the voltage pulse are of great importance. Moreover, you get the option to connect the device to your modem or your router for your remote monitoring system. Thus, with the help of a reliable and efficient solar inverter mains filter and a useful smart device, you get the facility to receive alerts through your sms alerts to 3 authorized person during power outage and power restoration.